Using the Bible and God to seal judicial and federal oaths
Lyndon Johnson being sworn into office
on a Catholic Bible
Placing a hand on the Bible and swearing an oath was something lots of presidents, legislators, and court witnesses have chosen to do in the past two hundred years of our nation's history. However, it is not required by law and it is not even a fixed tradition. In fact, five presidents, John Quincy Adams, Franklin Pierce, Rutherford Hayes, Theodore Roosevelt, and Lyndon Johnson did not swear in on a bible.
Jewish legislators have chosen to be sworn into office using the Jewish Bible, the Tanak including Debbie Wasserman Schultz, Ed Koch, and Henry Waxman.
In 2005, a judge in North Carolina refused to let Muslim witnesses swear in using a Qur'an. It turns out that the state constitution requires witnesses to swear on 'holy scriptures' and the judge did not believe anything but the Protestant Christian Bible qualified as holy scripture. Two years later the superior court in that county overturned the judge's ruling, allowing Qur'ans to be used in court.
A re-enactment of Keith Ellison's swearing in on the Qur'an
In 2006, Keith Ellison of Minnesota, a Muslim, raised a few eyebrows when he was sworn into office using a Qur'an.
The so called 'tradition' of proving the sincerity of one's oath on a sacred object is a throwback to an earlier time when people actually believed that if you broke your oath, God would punish you. Lots of government officials have lied, cheated, and generally abused their position without suffering God's wrath. We can probably all agree that we don't expect God to strike down even oath-breakers like Sarah Palin who did not fulfill her term as governor or the two presidents who were impeached: Andrew Johnson and William Clinton.
Regardless of whether you support or oppose it, swearing oaths on scripture a practice that is losing ground. Some pundits and law-makers want to see it enshrined in law. They've got lots of popular support, especially among evangelical Christians. The reason many of them give is that U.S. law is based on the Bible.
Let's look at this argument. There are 613 laws contained in the Torah (what Christians know as the first five books of the Old Testament). Most of these laws have no counterpart to the American legal system. You can check a summary of these laws
here
.
David Stras, MN high court justice after being
sworn into office using the Jewish Bible
If we consider what is referred to as the Ten Commandments we have to first acknowledge that these are a Christian invention, not a Jewish one. Jews follow all 613 laws God gave to Moses.
Here
is a great breakdown of how the Ten Commandments translate into law. Only about three of them apply to the U.S. legal code.
The teachings of Jesus don't really seem to apply to the legal code either. I've listed a few here so you can see how they either don't translate into law (like loving God – this can't be measured and thus it can't be adjudicated) or they contradict current laws and general practices such as the ones that have to do with money and compensation.
Love your neighbor as yourself
Love God with all your heart, your mind, and your soul
Don't fight back when attacked
Forgive financial debts
Share your food with others
Heal people without asking for compensation
Don't judge people without first judging yourself
Don't pray where others can see you
Give to charity but don't tell anyone
Drink Jesus' blood and eat his flesh
When changing currency, don't charge a fee
If people won't listen to you, just walk away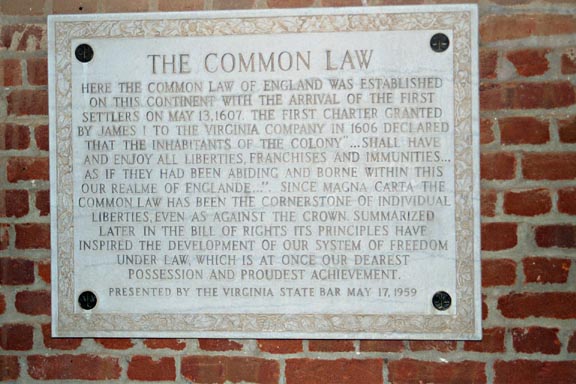 Plaque posted in 1959 to honor how Common Law, derived from the Magna Carta,
was "the cornerstone of individual liberties" the first English colony in America
Historical evidence shows that the American legal system was modeled after the British legal system. Their system is referred to as common law. This means that judges make legal decisions based on precedent. Laws are adjusted when circumstances demand it. For example, it used to be standard to hang anyone convicted of theft, even the theft of something small like a handkerchief. The laws were changed so that only large theft resulted in hanging and that children were spared the same punishment as adults. Common law allows for changes because these laws are crafted by people.
The Magna Carta
Another inheritance from the British system is the idea that the official laws of the land apply to everyone. In 1215, King John was forced to sign the Magna Carta by his barons who did not like how the king adjudicated on whim or not at all. In addition, they did not like how the king set himself above the law. The Magna Carta spells out the idea that the law stands apart from leaders. Laws do not change when leadership changes and leaders are held accountable to the same laws as free men.
By contrast, Biblical laws are not created by the people, but by God. For this reason they are unchanging. Thus a law like the one that says not to demand from a poor man repayment of his debt, when the creditor knows that he cannot pay, nor press him (Ex. 22:24) would not work in a capitalist country like the United States. However, because it is a law of God, should it be followed anyway? What about the laws of God that violate rights guaranteed in the Constitution? Biblical laws against blasphemy violate the right to speech. Biblical laws regarding worship violate the right to freedom of religion. Biblical laws regarding court proceedings violate parts of amendments 5, 7, and 8. And then there is the test act in the Constitution which states:
"The Senators and Representatives before mentioned, and the Members of the several State Legislatures, and all executive and judicial Officers, both of the United States and of the several States, shall be bound by Oath or Affirmation, to support this Constitution; but no religious test shall ever be required as a qualification to any office or public trust under the United States."
Several Biblical laws contradict the test act as well as the fourteenth amendment which states: "No State shall make or enforce any law which shall abridge the privileges or immunities of citizens of the United States."
Biblical law does not support a democratic or even republic-style government, favoring instead one led by priests and judges appointed by God.
Now, some people argue that it is not the exact Biblical laws, but the spirit of the law on which the laws of the U.S. are based. The trouble with this argument is that the spirit of the law is not a clearly defined concept and thus requires interpretation. The spirit of Biblical law, according to Dr. Jonathan Burnside, a reader in Biblical law at the University of Bristol in the UK can be easily misunderstood.
He writes
,
"Biblical law can be caricatured, at a general level, by misrepresenting it as a series of 'commands', or 'rules'. It can also be misrepresented in terms of its subject areas as being, variously, exclusionary, exploitative, imperialist, homophobic, hypocritical, nationalistic, patriarchal, vengeful and utopian."
However, Dr. Burnside believes there is a single and true interpretation of the spirit of Biblical law - his.
"Biblical law, seeking justice means showing active concern for the quality of a wide range of relationships. Drawing on the language of relational justice, we could say that seeking biblical justice in the modern world includes 'encouraging reconciliation, restoring relationships, and addressing the many factors which contribute to the breakdown of relationships'. The spirit of biblical law offers the hope of justice, expressed in and through right relationships."
The problem with Dr. Burnside's conclusion is threefold. First, he admits that it is an interpretation of the spirit of Biblical law. He believes his is the right interpretation, but he admits that others are possible even as he dismisses them as superficial or purposefully misrepresented. The second problem with Dr. Burnside's interpretation of the spirit of Biblical law is that he offers only anecdotal evidence for Biblical law being the foundation of both western civilization and the rule of law in the United States. Just because many people, including one Supreme Court justice, believe the Ten Commandments have shaped the American system of government does not make it so. A claim like this requires hard evidence, not celebrity endorsements. Finally, Dr. Burnside interprets the spirit of Biblical law with a rose-colored brush, completely ignoring the laws about raped women when discussing family life and justice, and glossing over laws that segregate the Hebrews from other peoples. There are many more examples like these, but suffice it to say that Dr. Burnside draws from laws regulating a man's property rights over his wife and daughters the idea that family cohesion is important.
"To be able to practice five things everywhere
under heaven constitutes perfect virtue:
gravity, generosity, sincerity, earnestness,
and kindness" - Confucius
If we are going to disregard the actual laws and talk about the spirit of the law in general terms, the whole idea of the laws being the basis of western civilization and U.S. law is questionable. Do we need the 613 very specific laws to know we should be kind to immigrants, poor people, and animals? Do we need 613 very specific laws to teach us about forgiveness, hope, charity, and justice?
Kindness, hospitality, forgiveness, hope, charity, and justice are universal ideas not limited to Mosaic Law. In fact, there is more evidence for this kind of thought in the New Testament. But then, kindness, hospitality, forgiveness, hope, charity, and justice are not laws. They are virtues. Both Confucius and Aristotle discussed virtue as a basis for human relationships long before Jesus did and without knowing the 613 Mosaic Laws.
My final thoughts on this argument are these: Why do American Christians need to believe the Bible is the basis for their system of government? You do not see Europeans making this argument. OK, maybe a Brit or two like Dr. Burnside. And you do not see Jews (for whom the laws were originally made) making this argument. How does the Bible being a basis for law promote the cause of either Christianity or America? I'm not sure many Christians, even ardent ones, want to live under Mosaic Law. Most Jews don't even want to live under these laws. Is the point of this argument to establish Christianity as the foundational religion of United States? If so, what is the end game? To increase the influence of Christianity on the legal system and in American culture? That would be a rather circular argument – because Biblical law has so influenced America, it should have more influence in America.
And, as constitutional law professor Jamie Raskin said in 2006, "Senator, when you took your oath of office, you placed your hand on the Bible and swore to uphold the Constitution. You did not place your hand on the Constitution and swear to uphold the Bible."
If witnesses and public servants want to swear on a Bible, that is fine. That is their choice. However, no one should be required to swear on any religious text. Such a requirement would be unconstitutional, steeped in superstition, and without basis in the traditions or foundations of the United States of America.