London is the setting for most scenes in Hope of Israel. Domingo moves to London with his family when he is 13 and continues to apprentice with his cousin, Manuel, who works for one of the most powerful Sephardic merchants in London, Antonio Robles.
Interior of the Queen's Chapel
Add caption
In London, the Jews must live secretly, pretending to be Catholics. They register as Spaniards and attend mass at the Queen's chapel because, like Judaism, Catholicism is an outlawed religion in England. Queen Henrietta, who is French, is exempted from the ban on Catholic worship as are all of her courtiers and others in her entourage.
Street scene, 17th century London
Lucy and her father might have lived in a house like those depicted above. His counting house was on the bottom floor facing the street. The family lived in the two levels above.
Fleet Street, notice the sedan chair on the left
Fleet Street, the busy thoroughfare where John Dunnington's counting house was located. London's streets were known for being heavily rutted, covered in garbage, and narrow compared to modern streets.
Whitehall Palace, execution of Charles I
Two images of Whitehall Palace. This is where King Charles I was executed. It is also where Oliver Cromwell held his famous Whitehall meeting to discuss with London's divines, merchants, and lawyers whether or not it was lawful to allow the Jews to be re-admitted to England.
Whitehall Palace before it burned down in 1698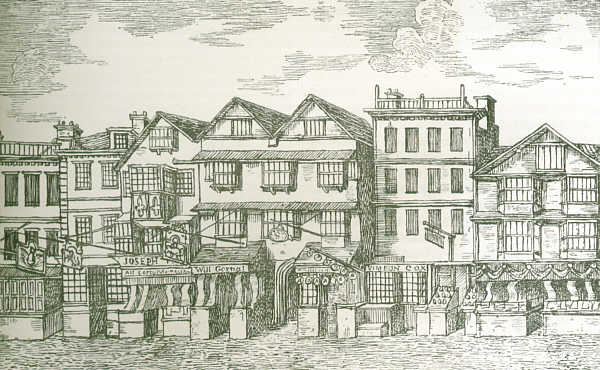 Wine Street, with the entrance to the Guardhouse in the 17th century
Image from "Bristol Past and Present - Volume 1 - Civil History"
J. F. Nicholls and John Taylor
Carriage circa 1750
View of the Thames, London 17th century
London Coffee House 17th century
John Dunnington conducts most of his business, selling Senhor Robles's imported goods, in London's coffee houses.