U.S. Poverty Map, 2007, Visualizing Economics
Following the re-election of Barak Obama in the United States, Americans are coming to terms with what this means for the healthcare system.
Some business owners have announced they will lay off workers or reduce their hours to avoid having to pay for their health care. The American Medical Association warns that the doctor-patient ratio will fall to unsustainable levels if physician autonomy is compromised. Conservative political leaders worry that increased access to healthcare will create a culture of dependency that will destroy American society.
On the other side of the argument, many young people are relieved they can remain on their parents' health insurance until they reach the age of twenty-six. Middle class families worry less about medical bankruptcy and poor families welcome changes in the law that will provide them with affordable preventative care.
At the heart of the dispute over how health care resources should be distributed in the United States is whether or not the poor deserve access to public assistance, particularly health care. Proponents of universal health care point to the example of Europe, where every single nation provides universal health care for its citizens. Civilized nations, they argue, level the playing field by providing all citizens access to basic care. However, opponents of universal health care also point to Europe, which is in the throes of a 5-year-long debt crisis that is showing no sign of letting up in the near future. Opponents of universal health care argue that the United States cannot afford to offer subsidized health care to the poor.
In this series of six essays, I will examine the theological and historical roots of differing attitudes toward poverty in the Christian tradition. I will argue that despite America's diverse origins and changing demographics, the predominant attitudes toward poverty are shaped by Calvinist doctrine. I will further argue that current attitudes toward poverty in the United States have sharply diverged from their Calvinist origins.
Dr. Sigrun Kahl
Yale University
Sociologist and political scientist, Sigrun Kahl, has done extensive research on religion's influence on the modern state. In particular, she studies how mainline Christian doctrines have shaped the welfare policies of European states. Sigrun Kahl's paper, "The Religious Roots of Modern Poverty Policy: Catholic, Lutheran, and Reformed Protestant Traditions Compared", helped me understand the theological roots of why and how poor came to be categorized as deserving and undeserving.
Below I've summarized the theological positions Dr. Kahl outlines. Each summary ends with a brief statement about how that particular theological position on poverty has shaped welfare systems in the nations where that theology was dominant in the early-modern era.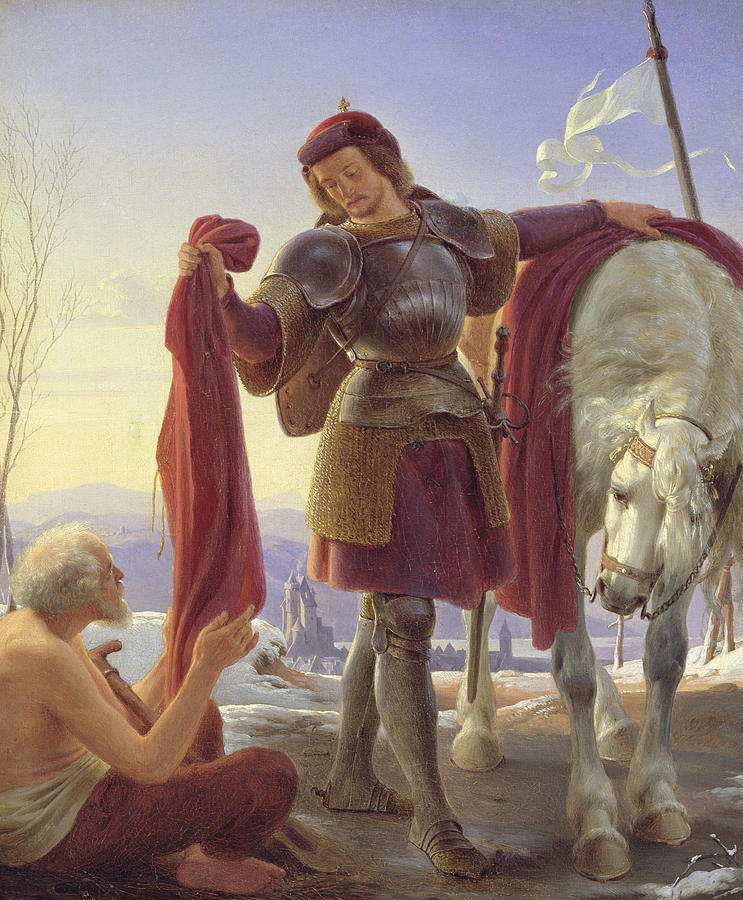 St. Martin and the Beggar
Alfred Sethel, 1836
Catholicism: community responsibility
Poverty is a sacred state and the poor are closest to God's heart. Taking a vow of poverty is required for monastic life and serving the poor is one of the highest callings a person can be given by God. There is dignity in work, but work is a burden. It is not undignified to not work if you have other means of survival. Beggars are part of the social landscape and should be treated with kindness. Poverty provides opportunity for those with means to do good works by helping the poor. In return, the poor should pray for those who give them assistance. There is no distinction made between worthy and unworthy poor. The state should not interfere with this system because assistance should be voluntary. This system results in Church control of institutions for the poor such as hospitals, orphanages, outdoor relief (soup kitchens and food pantries), refugee centers, and schools.
Lutheranism: state responsibility
The Charity
Ferdinand Georg Waldmuller
There is no shame in poverty, but work is a noble endeavor. However, people should not strive for more material wealth than is necessary to live. Begging is not acceptable. The state has a responsibility to support the poor from funds collected from the entire population. Those who are able to work should do so. If an able-bodied person does not want to work, he should be forced to. Poverty is a social failure. This system results in state control of institutions for the poor as well as social welfare programs to prevent poverty such as pensions, universal health care, public education, government regulation on prices of necessary goods, social safety net for unemployment, disability, and child care.
Beggar in the gateway
Unknown
Calvinism: personal responsibility
Poverty is God's punishment for sinners. Poverty is shameful and a result of an individual's failure to live by the laws of God and man. Work is essential to moral integrity. Idle people are sinful people. Material success is a sign of God's favor. Begging is immoral and must not be allowed. People who support beggars are enabling them to continue their sinful ways. Families and local parishes should care for those who cannot work, but those who can work and refuse to do so should not be helped. If they persist in their idle ways, they should be cast out of the community. This system results in a fragmentation of poverty assistance. The state takes minimal responsibility in preventing poverty and assisting those who are poor. Private charity is encouraged, but there is no spiritual benefit to it for the giver.