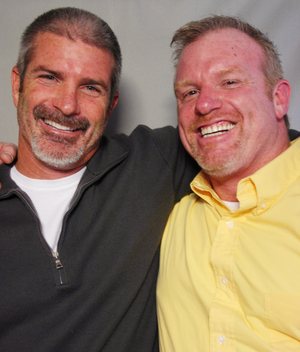 Bryan and Michael Wilmoth
This morning I heard on NPR's Storycorps two brothers talk about their experience growing us estranged because the eldest brother is gay and was kicked out of the house in his teens. Eight siblings all eventually became estranged from their very religious parents, but came together as a family as adults.
You can read or listen to their amazing story
here
.
This story really moved me as I am currently working on a novel, tentatively titled,
Whisper to a Scream
, about a young teen who was kicked out of his home for being gay. The heart of the novel is his youngest sister reaching out to him after she discovers that what her parents told her about her older brother, that he was a drug addict and in jail, was a lie.
As I write, I question the plot line. Could parents really be so cruel as to kick a child out of the house with nothing and then to cut off all contact between that child and his siblings? The Wilmoths' story is a resounding 'yes' to that question. I hope stories like these will move people to question their own prejudices and the teachings of their religion that drive families apart and destroy the lives of so many young people.